The flighttime from CPH to LAX via LHR took about 14 hours. PHEW!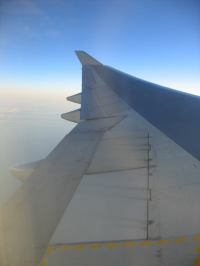 To our luck, the Entertainment Centre onboard the Boing 747 from LHR to LAX provided 16 channels of TV and 4 of these showed a continous loop of movies (Batman Begins, Kingdom of Heaven, Madagsgar, Outbreak (kind of an old movie…), and a lot more). If you haven't seen Batman Begins yet, I would definitely recommend it!
We arrived at LAX at 19:30 (local time) and about an hour later (due to Customs and Imigration…) we met Ulrik outside the Transit Area. I don't if that was pure luck but there seemed to be a lot of EXITs where we came from :)
After a 45 min. drive to Ulriks place (229 E Commonwealth Ave, Fullerton => try hitting the satellite button) we decided to go for dinner. Of course, Ulrik already knew the perfect place: Heroes. Below you can see a picture of Jens having a double pint of Anderson Valley IPA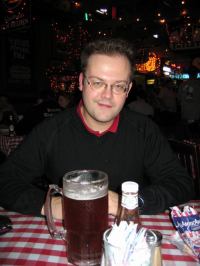 Jens has uploaded a bunch of pictures from the flight and the first day here including a picture of our preliminary CAR (a Cadillac Deville). We will swap it tomorrow for a Pontiac G6.